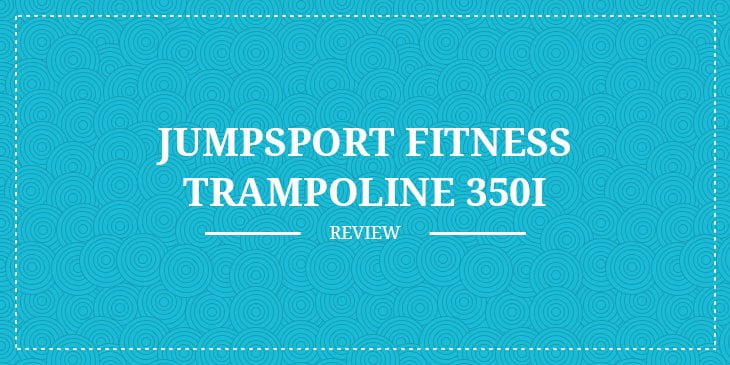 JumpSport Fitness Trampoline 350 Review
Are you looking for a trampoline that can be used by people of all sizes and ages?
I have a few good models in mind that I can recommend to you, but JumpSport Fitness Trampoline 350i is the one I want to tell you more about today.
It is a high-quality trampoline designed with perfection to provide various types of users with the best exercising experience.
It has plenty of innovative features that makes it superior against its competitions. This is the best trampoline if you are looking for equipment to use either at home or the gym.
It serves both places perfectly. The best part is that it doesn't cost much to own this trampoline.
3 Adjustable Tension Settings
This trampoline has 30 adjustable cords that allow for three adjustable tension settings to allow you change the mat firmness for a more customized bounce.
This feature makes the trampoline even more convenient and efficient since it allows you to choose how you want to feel while you work out on it.
You simply adjust the tension to your most preferred point so that you don't lose a moment of relishing exercising experience.
High-quality Construction
The JumpSport Fitness Trampoline 350i is made up of a 39-inch silver frame with black legs that provide maximum stability in the event of working out.
It also has a 32.5 inch Permatron jumping surface and EnduroLast 3 elastic cords that have been tested to millions of bounces.
With these features, this trampoline is a high-quality product designed to offer the best exercising moments for you and your family.
Over 40 Percent Reduction in Impact
Your safety and comfort when you work out on a trampoline is key and should be taken into consideration when choosing the right equipment.
The JumpSport Fitness Trampoline 350i provide over 40 percent reduction on impact compared to the traditional rebounders.
This quality ensures both your safety and comfort while you do your daily exercising. With this feature, you can jump comfortably even when you are heavy.
High Level of Stability
The JumpSport Fitness Trampoline 350i incorporates a variety of features that maximize its level of stability because that is one of the things that matter the most in such equipment. This trampoline has a handlebar included for added stability.
It also features arched legs for maximum stability and excellently resist tipping for added safety.
All these features make it more effective as an exercising equipment. You can trust it with your weight.
Users of All Ages
Unlike other trampolines, the JumpSport Fitness Trampoline 350i is designed to accommodate users of all sizes and ages.
It can be used by both children and adults. It comes with a wide range of additional fitness accessories.
This model only weighs 20 pounds but has a weight rating of 250 pounds so that it can be used by people of all ages for exercising. It is an amazingly safe trampoline that I'm sure you will love.
Pros:
Strong silver frame
Arched legs provide maximum stability
Designed with excellent safety features
Overall durable design
Easy for storage
Cons:
It is not easy to disassemble
Frequently Asked Questions
Q: Can two people jump on it at the same time? 
A: It is not safe to jump on any trampoline two of you at the same time unless you want to lose some teeth.
Q: I look at it on pictures, and it looks sophisticated and better built. How durable is it?
A: This is one of the trampolines that look better that it looks on pictures. It is strongly built so that it can give you years of unwavering performance.
Q: Can it be used on the outdoor?
A: I have not tried using mine on the outdoor, but it is pretty much designed for the indoors.
Final Verdict
It took me a long time to find a good trampoline; and when I finally did, it was JumpSport Fitness Trampoline 350i.
This trampoline comes with safety components that make it one of the safest exercising equipment you can ever think of.
It has an excellent design that makes it perfect for indoor use, and its high-quality construction allows it to last longer even with vigorous use.
So, if you are looking to buy an innovatively designed trampoline that won't let you down, consider going for this model. It will save you a lot.
Buy JumpSport Fitness Trampoline 350, Now!